Free Kindle Download
12/16/13 03:41 AM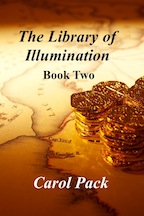 Seasons Greetings!
This week only - Wednesday December 18 through Sunday December 22 - my novelette
Library of Illumination: Doubloons
will be available as a
free Kindle download
.
The Library of Illumination is a magical place where all stories begin: literature, science, poetry; every thought that has ever been committed to paper resides within. 16-year-old Jackson Roth is library curator Johanna Charette's new assistant, but he may be too rambunctious for the quiet repository of knowledge. He unwittingly releases a bunch of rowdy pirates, who leave a cache of Spanish doubloons behind in the main reading room after they disappear back into the pages of
Treasure Island
. The money from the pirate booty couldn't have come at a better time, but a pawnbroker's interest spirals out of control, and instead of untold riches, there is mounting danger. Can Johanna and Jackson outsmart their enemy before an itchy trigger finger finds its mark?
Enjoy
Doubloons
for the holidays. It's my gift to you.