My Muse Went Home for the Holidays
12/04/13 03:38 AM
It is so difficult to think about writing and publishing during the holiday season. There are too many other tasks vying for my attention: shopping for gifts, sending out greeting cards, planning my Christmas Eve menu, baking cookies; I don't know how other writers stay focused between Thanksgiving and Christmas. I feel like a ray of light passing through the prisms of a chandelier – suddenly disbursed into several different directions in a spectrum of colors.

Scattered is another way to put it.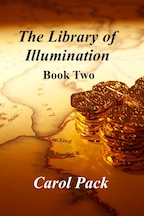 But I didn't let that stop me from setting up a book promotion for the week before Christmas.

Doubloons,
the second novelette in the
Library of Illumination
series, will be a free Kindle download on Amazon from December 18
th
through the 23
rd
.

It's my Christmas present to my readers.
Here's the link:
http://amzn.to/1ka54Jm