02/20/13 08:19 PM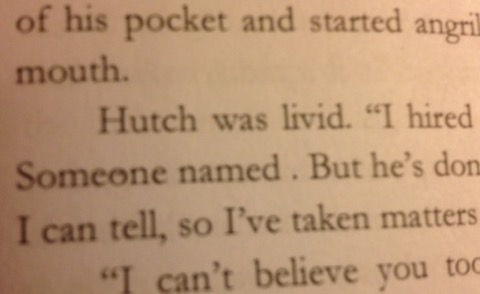 Today, I learned that I'm human. Really human. I know, because I made an idiotic mistake.
I ordered a bunch of Advanced Reading Copies of
Evangeline's Ghost
to send to potential reviewers and book bloggers, only to discover the name of one of the protagonists is missing. ARCs are usually "uncorrected copies," but this error is a little too big to ignore. The omission would make reading this particular novel, an adventure.
For example, on page 205 it says, "I hired my own man to do the job. Someone named ."
Someone named…what?
It's a good thing I was spot-checking the galleys and noticed spaces between some words and the periods ending the sentences. I worked for hours to fix it, but then today, I found four more places where the bad guy's name was missing. I had to reformat my book, and inform my editor about the snafu. And I used up the whole day repairing my sloppy work. So I want to pass on a bit of advice for writers who are fond of using the
Find and Replace
feature on MS Word:
1. Don't give in to any distractions while mass-replacing words in your document. And…
2. Make sure there's a word written in the
'Replace'
box
,
before you hit the '
Replace All
" key.
Fundamental, right?
Stupid, right?
To make up for it, I ended up paying for a whole new bunch of galleys for my book, to
'Replace'
the flawed ones. It was an expensive mistake to make, and you can be sure that I'll never make it again.