07/15/12 09:31 PM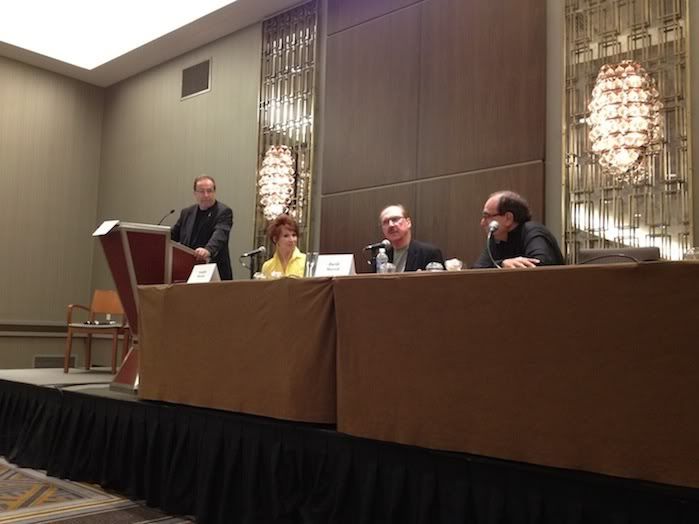 Peter James, Sandra Brown, David Morrell, R.L. Stine
I just got home from my sixth Thrillerfest Writer's Conference (there have been seven of them, but I missed the one in Arizona), and like every other year that I have attended, I feel like I learned a lot. I hadn't planned on pitching this year, but
The Library of Illumination Chronicles
are so close to completion that I had to do it. Luckily, some agents were interested in seeing the manuscript, even though I was pitching YA fantasy is a room filled with agents looking for
thrillers
.
The workshops and panels I attended were taught by some of the best thriller writers in the world, including Catherine Coulter, David Morrell, Steve Berry, Sandra Brown, Lee Child, Lisa Gardener, Bob Dugoni, and so many others (I usually subscribe to the rule of threes, but there were so many New York Times best selling writers in one place, that I couldn't hold back. And I didn't even mention John Sandford, Joseph Finder and R. L. Stine, and that's still only the tip of the iceberg. Because it was four days of workshops and panels and interviews involving great writers. OMG! I left out Heather Graham, and Karen Dionne and M.J. Rose. Really, I could keep adding names to the list… Doug Preston, Gayle Lynds, and Phillip Margolin (who should know my auto corrector wants to change his last name to margarine).
I met other aspiring authors, just plain folk, like former FBI agents, doctors, lawyers and navy seals. And journalists, lots and lots of journalists (but, it should be noted, that we were outnumbered by the lawyers). Everybody's got a story they want to tell, and it seems like they all want to publish that story as a thriller. I even saw a former commanding officer of my local police department's homicide squad, who is writing crime fiction. It was quite an event.
Once I get my notes organized, I'll share some of the writing tidbits I picked up. Look for them in this blog and on my Facebook and Twitter pages. But right now, I've got to go finish
The
Library of Illumination Chronicles,
so I can write a synopsis of it and send it out.
The pressure is on, but life is good.