06/18/12 08:16 PM
I saw the following story in the Real Estate section of the New York Times this weekend, and I want to reblog it, so I don't forget it. It's about the little out-of-the-way streets in Manhattan that make up tiny communities that seem far, far away from the hustle and bustle of the city. You may need to be a NYT subscriber to see the multimedia presentation that includes Pomander Walk, Rutherford Place, Beekman Place, Stuyvesant Street, and Cherokee Place, but if you can access it, it's fun to learn about them. What follows is the main article from the NYT:
THE vast majority of
Manhattan
residents live on streets that seem to run forever. Twenty-third Street clocks in at about two miles, Second Avenue at nearly seven. Thanks to Manhattan's grid plan, which is celebrating its bicentennial with an exhibition at the
Museum of the City of New York
, the bulk of the island is laid out in rigid checkerboard fashion.

Multimedia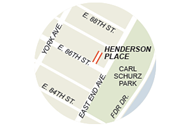 Interactive Feature

Five Small Communities Within Manhattan
But
for a few fortunate people
, there is another Manhattan, a handful of short streets that run for just a block, or two or three at the most. Their histories are invariably rich — some were born as driveways for large gated estates — and their charms quickly reveal themselves to both residents and visitors.
Such streets are typically lined with trees and exquisite old buildings, and often adjacent to parks. Many are designated as historic districts. Being off the beaten track and sometimes gated, they tend to be unusually safe. Many have adorable names, like Patchin Place and Sniffen Court, and have been home to celebrated residents (E.E. Cummings on Patchin Place; Irving Berlin on Beekman Place).
Small and tucked away, these streets offer a respite from the hectic city. "They have a special quality," said Kevin Walsh, the creator of
Forgotten New York
and one of many urban bloggers who find these enclaves irresistible. "You feel it the moment you set foot on these streets."
And because they break the geometric precision that dominates much of the island, they offer unexpected vistas. "Even if you don't think about the grid," Mr. Walsh said, "you're subconsciously aware of it, and you notice subliminally when it's interrupted."
Short streets have a few downsides. They befuddle taxi drivers. To arriving guests, it can be hard to explain exactly where you live. Residents sometimes know their neighbors almost too well; everyone knows when you come home at 2 in the morning. It's easy for residents to obsess over amenities like outside lighting and other street furniture. As Simeon Bankoff, the executive director of the
Historic Districts Council
, said, "People on some of these streets take their sidewalks very seriously."
But residents don't complain much. They realize they enjoy a benefit not often found in a big and congested city, the sense of being part of a small and exclusive community. "It was as if everyone was part of a large extended family," said Alicia Bliss, a 39-year resident of
Henderson Place
, a cul-de-sac north of East 86th Street that is home to dollhouse-size Queen Anne row houses. "Our front door was like a hallway to our neighbors' houses."