03/24/13 08:24 PM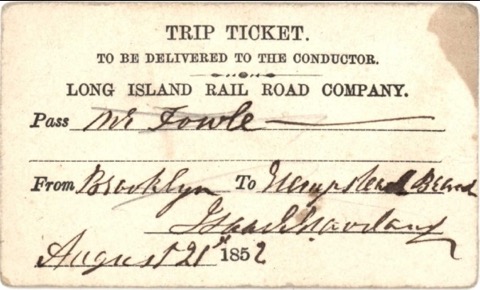 A cover story in Newsday this week about paper Long Island Railroad tickets riding into history brought back memories of when I rode the railroad in my youth (note: the above ticket is not mine). Back then, the seats were on a kind-of roller system that allowed you to face them forward or backward. It was good for card players enjoying a nightly game on their way home from work, or families that needed more than one seat and wanted to face each other during the trip. For me, it was the only way I could get a window seat. My brother was older, and he always
won
the privilege of sitting next to the window. I was always relegated to the middle seat. But sometimes, if the train was empty, the conductor would switch out the seat so I could sit next to the window too.
When I got older, I learned that the best day to go to Manhattan was Wednesday, because Wednesdays were Ladies' Day and females rode for half price. I remember going into the city on a Wednesday looking for prom gowns with friends, and searching for a room in a boarding house in Greenwich Village when I couldn't get a dorm room at FIT.
And every time, I had a paper ticket in hand. Now, the railroad is moving toward e-tickets and eventually, paper tickets will become quirky, and sometimes valuable memorabilia.
http://www.newsday.com/long-island/li-life/lirr-tickets-to-history-1.4875757#1