05/28/14 08:37 PM


Just got a great review from
TheCelebrityCafe.com
and I thought I'd share it.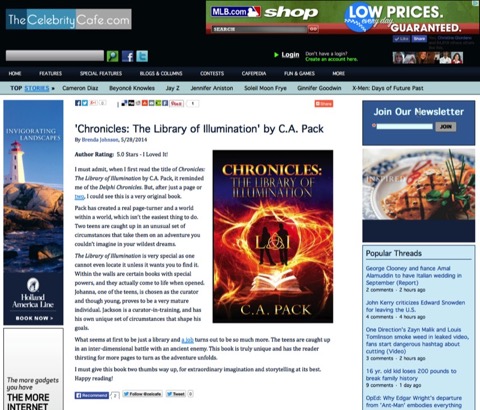 05/22/14 10:27 AM


I know ... I know ... I did a 10 Things blog earlier this month, but that was about
Chronicles: The Library of Illumination
and this is a little different. It's...

10 Things You Probably Don't Know About Me


Even though writers do whatever they can to connect with readers, most people don't usually know any more about an author than what's printed in the short bio in the back of a book—if that much. And considering my bio is very short, there's a lot readers don't know about me. So I've put together a list of the ten most interesting factoids about me and my
world
.

1. I used to teach people how to be television news reporters. I know, it's a dirty job, but someone's got to do it.
2. I'm qualified to teach aspiring reporters, because I used to be one myself, not to mention a television news anchor, and an assignment editor.
3. Even though I'm not much of a singer, I enjoy writing song parodies and have been known to perform them in public.
4. I own two parrots, Nigel and Colin, who are named after two characters in my first novel. They're female parrots. I named them before their DNA was tested to determine their sex. I didn't have the heart to rename them, since they responded so well to their names.
5. The first line of the first story I ever wrote was, "The sun rose in the east," and it was written in a small notepad I carried around in the third grade.
6. Apple—not Android.
7. I once asked a cop in a subway station for directions, and didn't realize (until someone pointed it out to me) that he was standing guard over a dead body.
8. I've been to more than 20 countries and 42 of the 50 United States.
9. I like thunderstorms.
10. I'm already hard at work on the
Second Chronicles of Illumination
—which encompasses the next five novelettes in the series. The ebook for The Overseer will be released this summer, and
Myrddin's Memoir
is coming out in the fall.

And now you know all my secrets. Well, maybe not all of them, but some of the ones that may shed some light on
Chronicles: The Library of Illumination
.


05/01/14 06:41 PM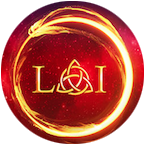 There are always little bits of information floating around in a writers mind that influence what s/he writes, even if that specific information is never spelled out. There are a lot of little bits about Chronicles: The Library of Illumination that for some reason or another were left on the cutting room floor, but that doesn't mean I've forgotten them. And each little factoid could still be revealed in a future LOI adventure. But it's always nice to have some insider information, so today I'm going to tell you ten little known facts about the Library of Illumination:

1. Jackson used to have a different last name. Originally, his name was Jackson Ryan, but someone pointed out to me that it was too similar to Jack Ryan from Tom Clancy novels.

2. In The Overseers (book six) you'll learn why Mal is still alive after 800 years. He didn't live that long without a little extra help from The Overseers.

3. I originally used a real super hero in Doubloons but removed him because of possible copyright infringement. When I came up with Impervio, I started writing a companion comic book about him, but quit after page 14.

4. When she was 16, Johanna ran away from the orphanage where she lived most of her life and changed her name and age to avoid being found. It worked. The system was so overcrowded, no one bothered to look for her.

5. Jackson doesn't own a cell phone. He realizes he could use one in Portals, but never bought one because he's saving to buy a car.

6. LOI Curators are supposed to hand over a special book of knowledge to their successors, but Mal didn't give his to Johanna, because he thought she might be too young to comprehend such a vast amount of history and information. This leads to all kinds of problems in Portals when Johanna finds out there's a lot she doesn't know about the Library of Illumination.

7. Latin is the inspiration for the Terrorian language—probably because I took Latin as a language in school.

8. Both Johanna and Jackson have Twitter accounts. It's true.

9. Johanna always wanted a cat named Ophelia, but doesn't get one until Myrddin's Memoir (book seven).

10. Most of the people who use the Library of Illumination are scholars and researchers who are on an "approved" list. They make their requests via snail mail, email or phone and the books are sent to them. Users know about the special qualities of the books, and use them judiciously. However, the library is not open to the public. People who visit there are usually invited guests. And there's an enchantment on the library that makes it difficult to most people to find.