10/24/12 08:41 AM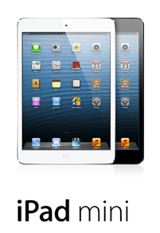 I've written before about how I've been holding out for an iPad mini (for more than a year) and finally, the tablet of my dreams has arrive.
Wait… you say it had no retina screen? No problem. Whenever I see pictures of retina displays next to non retina displays to show the contrast, I never see the contrast.
What's that? The mini has an A5 chip and not the A6X? I probably won't notice the difference.
One more thing? The mini has a new lightening connector that's not compatible with existing peripherals? Does it matter? If I upload everything to my MacBook Pro and it gets transferred to the mini via bluetooth, how many adapters do I need?
Let's face it. I'm a writer, and my predominant reason for wanting an iPad mini is for ease of use when traveling - something highly portable to read on, write on, and connect on. I'm also an Apple person. I've got the afore mentioned MacBook Pro, an iPhone 4S and a first generation 64 GB iPad on which I have 49 GB still available for use.
The mini will suit me just fine. I don't need it for heavy-duty computing, video editing (although I can't wait to try that), or watching films and TV programs.
I've got other stuff for that.
The iPad mini is what it is…
Perfect.
10/15/12 08:40 AM
My favorite Google doodles are the interactive ones, and today's pays tribute to the 107th anniversary of New York Herald cartoonist and animator Winsor McCay's Little Nemo in Slumberland. McCay began drawing Little Nemo in 1905 and the cartoon was so popular, it was eventually made into a Broadway musical. Years later, McCay began animating some of his characters and created one of the first films to use cels.
Before there was Disney, there was McCay.
Maurice Sendak has described McCay as one of America's Great Fantacists. I kind of wish McCay were here now, to illustrate the
Chronicles of the Library of Illumination.


Check out this
Google Doodle
which was posted on Facebook.
10/05/12 08:40 AM
Almost every day, I go onto Pinterest and re-pin fashions of the 17th, 18th, and 19th centuries to use as research for the historic novels I write. Today, it made me think of my own top six fashions from years gone by.
Far and away, I probably got more wear out of a pair of black denim, low rise, boot flared pants than any other article of clothing in my closet. They laced up with rawhide in lieu of a zipper, and I often paired them with a black V-neck sweater with blouson sleeves.
A long, wine-colored suede vest came in a close second. I loved it because it had a shawl collar and pockets. It went with dresses; it went with dress pants; it went with jeans. I often wish I still owned it.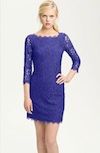 Then there was the blue lace dress my mother made for me. It is very similar to the one pictured, except mine was baby blue. It was a simple dress, but don't think of it as just a home-made outfit. My mother worked for a couturier who sold her designs through Bergdorf Goodman and she custom fitted that lace mini sheath with long sleeves and a boat neck to my body. It was as soft as gossamer, as stretchy as spandex, and easy to take care of. It wasn't just
simple
. It was
simply
beautiful.
During the winter I had a black wool coat that had a high collar, was double breasted, with brass snaps, fitted through the waist with an inset belt and ended just above the knee. I guess you would call it
feminine military style.
I wore it until it was threadbare.
In lieu of a little black dress, I owned a little black velvet suit. A short black skirt and a blazer style jacket that didn't overlap in the front but had gold buttons on each side that attached to their mates with chains.
And then there was my Donna Karan sarong skirt and blazer in black silk. It doesn't
seem
like a sarong would go with a blazer - one being sexy, the other being utilitarian - but they paired together beautifully. The two pieces cost me a fortune, but I
wore
every cent's worth out of them. I remember dressing in them to cover a visit by the Vice President of the United States (I was a reporter) and as I was getting ready to leave, I ripped one of the sleeves at the elbow. It was summer, so I just rolled up the sleeves and the fabric was so fine that no one ever knew I had a wardrobe malfunction. My tailor was able to repair the problem by tapering the jacket's loose sleeves and I was able to wear it for several more seasons. It was a perfect pairing, yet each piece worked alone, as well.
I loved all those outfits, and what I think makes them extraordinary, is that they could all pass muster if worn today. I can't say the same for some of the other outfits I've owned, but then they weren't
classics
like the items mentioned above.