09/08/16 05:32 PM


Author John Lescroart said interesting things at Thrillerfest this year that I want to remember, and I thought a good way to do that is by blogging them.

First: say something interesting in each scene, It should be unexpected, clever, and totally cool.

Second: using italics means an author is inserting "false drama."

Third, and this is a quote: "As long as we're aware there are no rules, we can break them."



09/06/16 12:10 PM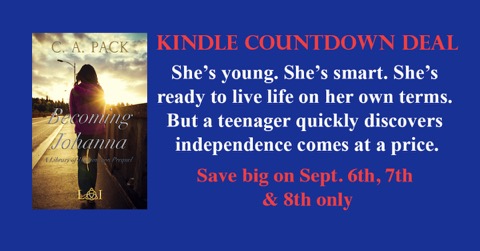 So I did all the stuff I thought I was supposed to do to promote a sale on my book,
Becoming Johanna
, and after each step, I questioned why I didn't add hash tags. Or why I forgot to include the LINK! Or why I just don't hire someone else to do this for me. The truth is: I'm flunking Social Media. But I do know how to blog, and so this is what I'm trying to say:
Kindle Countdown Deal! (It's my first. Can you tell?)
On September 6th, 7th, and 8th only, "Becoming Johanna" will be on sale for 30 to 60% off. The earlier you buy, the less it costs. And you can get it
here.
If I were Tweeting this I would probably add #cheapkindlebooks and #bookbuzz. But my tweeting is deplorable and I actually forgot to do that. When I posted it on Facebook, I forgot the link.
Some day, it will all come together. At the same time. But today isn't the day.